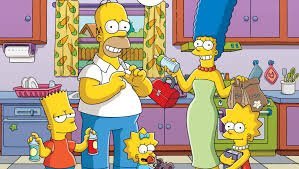 Years ago, as I was turning 11 or was it 12, a certain yellow-hued family debuted on Fox TV. Now as I enter my "middle-ages" I can look back fondly at all the laughs and entertainment that Homer, Marge, Bart, Lisa, and Maggie, along with a huge cast of supporting characters have brought me throughout my life.
At a quick glance, we can easily spot the obvious "benefits" of the Simpsons, laughter, emotional well-being, and a source of comfort. But what happens if we dig a little deeper? Do we learn more about ourselves by learning more about each of the characters? I have no clue. Growing up I was never the rebellious spirit, nor was I the bookworm who valued education and studying above all else. I do not think I was the buffoon who got himself into careless situations where a tad bit of common sense would have made them easily avoidable. I was also not the abject loyal family person who put family first.
So who was I?
I think that is part of the great thing about The Simpsons, that while we try to compare ourselves to one of the characters, we can see and find ourselves in a multitude of them. So in essence, we are all versions of The Simpsons in their entirety. I think back to their arcade video game, where you were forced to choose one of the characters to control. Each of them had their perks, but it was only by using them collectively that you were able to beat the game. Their individual strengths, when combined, outweighed their weaknesses. In life, we can resemble that. We weren't really meant to go through it alone, and even if it's with a "family" of our own choosing, the strength given by that family will always lift us up through our toughest of times.
The Simpsons are pop culture and will always have a place in heart, as it is where, I am sure, many of us really first began to take notice of Rock n Roll legends, Hollywood stars, political and sports figures and where we began to formulate our own pop culture sensibilities.
So here we are, grown up with The Simpsons, having them teach me about world events and pop culture, I can truly say that my only wish is that they to, get to advance a year in their life as well…sometime in my lifetime!